License:

Ad-supported Freeware

Language:

Publisher:

OS:

Windows 10 / 8 / 7 / Vista / XP

Updated:

Sep 5, 2018

Technical:
BitComet Review
"

Feature-rich BitTorrent client that downloads items fast, as well as changing port settings for blocked ports

"
A review of BitComet by Fernando Ortega
BitComet is a freeware peer-to-peer file-sharing program that is compatible with Bit Torrent, the most popular online file-sharing protocol in 2011. The distribution is clean and spyware-free with support for queuing, resuming, port mapping and more. This client competes with other Bittorrent clients such as uTorrent and Azureus, but we think BitComet is probably one of the most stable clients out there with their support for multiple protocols and the intuitive ways it has at increasing download speeds.
Taking a nod from those who love speed, BitComet does a wonderful job at keeping its client stable and fast. Downloads are easily managed and with the click of a mouse, resuming, stopping and pausing downloads is as easy as pie. Thankfully, you can also preview files while they're downloading.
In terms of getting what you want fastest, BitComet allows users to set priorities on certain downloads. With priorities, different files can be put at the top of the queue, using your resources to fetch that file faster than others.
Though the popularity of eDonkey isn't what it was in its heyday, it still contains many files which are hard to locate via other sources and has a strong following of loyal users. BitComet supports that protocol and you can download the eMule plugin directly from their web site.
Also worth mentioning about BitComet is its ability to download files across various protocols, making it versatile in maximizing download speeds. Currently supported protocols are torrents, ed2k (as mentioned above), HTTP, FTP and LTseed, BitComet's very own file-sharing protocol. BitComet can also fetch identical files from other known torrents.
As one of the most advanced file-sharing clients to date, BitComet can download files faster by utilizing several different protocols, accessing as many seeders as possible. One such example is BitComet's unique ability to locate and fetch identical files from other known torrents.
An interesting note about BitComet is a beta test which uses high-speed servers to assist users in downloading files anonymously. Called VIP Acceleration, it's somewhat comparable to a private VPN, but can also improve download speeds. There is currently a free trial available to users wishing to try out this service, similar to SeedBox. Past the 30 day trial, a 10GB limit will cost US$4.99/60 days and heavy downloaders can get a higher limit of 100GB/90 days for US$19.99.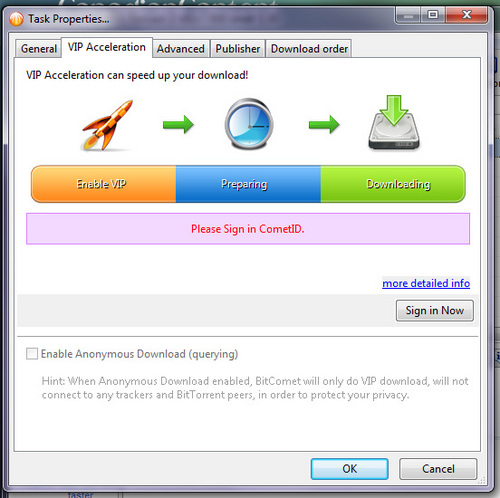 VIP Dialog Box
Finally, with the huge rise of users running 64-bit operating systems to take full advantage of system resources, BitComet offers a 64-bit version of their program. For those worried about the longevity of their devices (Torrent downloads make a lot of read-writes), BitComet uses intelligent disk caching and intelligently reduces disk fragmentation.
Installation note: This program is bundled with adware. The installer may attempt to change your homepage, search engine and browser settings or install third party offers. Pay very close attention when installing; the third party offers are not necessary for this software to function.
---
BitComet is licensed as Freeware for Windows (32-bit and 64-bit) operating system / platform from p2p filesharing software without restrictions. BitComet 1.52 is available to all software users as a free download (Freeware).
---
This BitTorrent client software is filed under:
BitComet Download
Freeware P2P Filesharing Software
Free Software Download
Compatibility with this BitTorrent client software may vary, but will generally run fine under Microsoft Windows 10, 8, 8.1, 7, Vista and XP on either a 32-bit or 64-bit setup. A separate x64 version may be available from BitComet.
| | |
| --- | --- |
| | We have tested BitComet 1.52 against malware with several different programs. Please review the test results. We have not certified this program as clean. [Read more] |
Screenshots
of BitComet (5)